The Marketplace is where customers come to browse all the beats on Airbit to use for their recording projects. It is an opportunity for you to get some extra visibility + sales from customers we bring in with our own Marketing methods.
The Marketplace includes everything on airbit.com, except your personal profile page (www.airbit.com/profile/yourusername). Selling on the Marketplace is optional, and provides some great benefits to you if you opt in:
Chance to get extra sales from customers who otherwise may not've know about you or your work.
Chance to be chosen as one of our weekly staff picks or as the producer of the week.
Chance to have your beat featured in our banner position for a month, as our featured beat
You can promote a beat, which will see your chosen beat added to our homepage, the top of relevant search & browse results, as well as promoted on Soundcloud & Twitter
You can opt in or out of selling on the Marketplace in Dashboard > Selling Tools > Selling Preferences, or click here.
The Marketplace won't be your main source of traffic, so don't rely on it as your only source of income, but it's great to get some extra exposure, free promo, and extra sales.
You can also use the Marketplace to find other producers who you might want to work with and co-produce beats with!

Marketplace Sales Commission 
 All sales on the Marketplace are subject to commission - the amount you keep will depend on your membership level: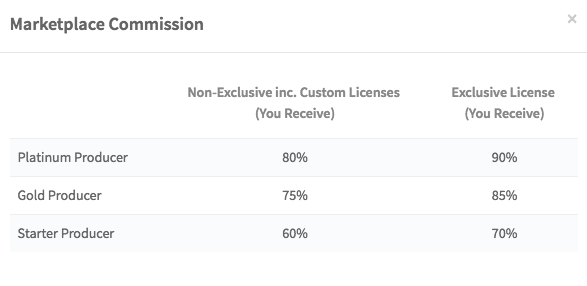 Please note you have a separate Marketplace profile page (www.airbit.com/your_username) which is subject to commission, unlike your personal profile page, which is not.